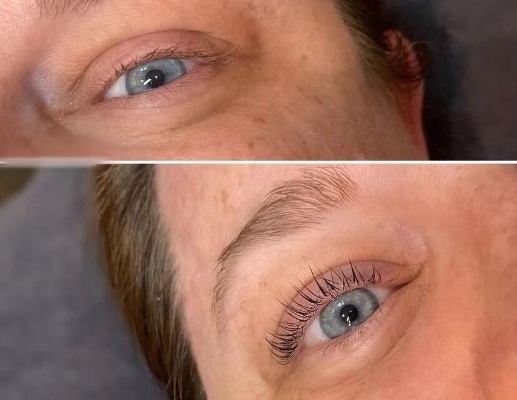 Lash Services will leave you feeling lifted and luxurious, making your eyes pop with no makeup!
Last Removal Only | $37
Lash Removal with Classic Full Set | $20
Classic Full Set | $109 Classic lash extensions are individual extensions applied to each of your natural eyelashes to add volume and length. A single extension will be applied to every one of your healthy natural lashes. ​
Classic Fill | $67 Prices are based on a 90-minute service. If additional time is needed, it is charged by the time.​Volume Lash
Extensions Full Set | $149 Volume lash extensions use your natural lashes and enhance them with a "fan" of three or more lashes to add more length and distinct volume! Volume Lash Extensions are the fullest and most dramatic looking lash.​
Volume Lash Fill | $93 Prices are based on a 90-minute service. If additional time is needed, it is charged by the time.​
Hybrid Lash Extensions | $109 Hybrid lash extensions are a 50/50 mixture of classic and volume lashes. All of your natural lashes will be isolated with half of them getting single classic extensions and half getting fans to create a nice natural and textured look.
Hybrid Lash Fill | $84 Prices are based on a 90-minute service. If additional time is needed, it is charged by the time.
Say goodbye to old fashioned lash curlers and say hello to Lash Lifts! Lash Lifts are a great option for those looking for a low maintenance alternative to lash extensions! A Lash Lift is an advanced technique designed to enhance the appearance of darkness, curl, and length of the natural lashes. The process is done in an hour using a special eyelash lifting solution and customized shields based on your individual eyelash length. After lashes have been permed, a black tint is applied to give the effect of wearing mascara.
Lift/Tint Duo | $80
Lift Only | $67
Tint Only | $25
Guests CAN NOT get this service if they have any of the following:
– An inability to lie down flat for up to an hour
– Active eye infection or inflammation – Recent eye surgery
– Allergy/sensitivity to dyes or adhesives
– Extremely sensitive eyes/extremely dry eyes
– Extremely fine and brittle lashes are not ideal for this service
– Lashes shorter than .5mm or extremely short lashes may not get worthwhile results
Aftercare
The first 24 hours post-service you'll want to be extra gentle with the lashes. Avoid getting the lashes wet or exposed to excess moisture, rubbing/tugging, wearing eye makeup, and facial treatments. After 24 hours, they require no upkeep and you're free to get them wet and wear mascara. Lash lifts last 6-8 weeks depending on how fast your lashes grow. Lash tint last around 4-6 weeks
If you will be a first time guest at FIX Salon, here are a few things to keep in mind before your appointment. Payment for services is in the form of cash or credit/debit cards. We do not accept personal check. We also request that no children accompany you to your appointment.